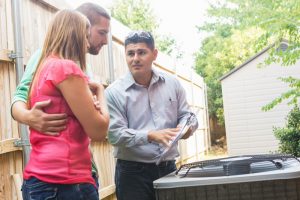 With summer officially here, it's just about time to turn on our AC's and run them pretty much non-stop during the day. But wait—what if your AC is aging and falling apart, or what if you've finally realized that the window AC units you've been using just aren't going to cut it one more summer?
If it has come time for you to have a new AC installed, we want to discourage you from rushing into your purchase. There are a number of factors to consider, including the proper sizing of your air conditioner, the brand and type of AC that will best fit your needs, and of course, who installs it.
An amateur installer won't have all the facts, skills, or experience necessary to install an air conditioner that will work as effectively and efficiently as it's meant to for as long as it's meant to. This is why you should hire a professional! But how do you know you're choosing the right one? Read on!