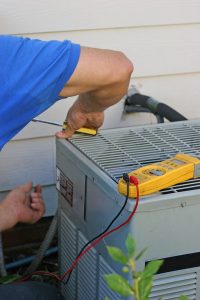 Temperatures may still be on the cooler side in our part of the country. In fact, we saw snow again just a short time ago. But given how warm it does and can get during the spring and summer, a fully effective air conditioner is vital for the seasonal change. And now is the best time to arrange for an AC tune-up with a HVAC contractor in Salt Lake City, UT.
Maintenance tune-ups should be scheduled twice a year—once for your cooling system and once for your heater. There are a couple small maintenance tasks you can do yourself. For example, you'll need to change your air filter every 1-3 months depending on the level of contaminants in your home, and depending on the air filter type. But truly thorough and effective maintenance requires the services of a trained HVAC professional.
The Benefits of Preventive Maintenance
There's a pretty common question that our technicians get, and that's, "Do I have to have maintenance every year? Can't I skip it just this once?"
Yes, you need to get it every year. No, you shouldn't skip it just this once.
We typically recommend that you have your air conditioning maintenance done in the springtime, before its period of heaviest use. However, what' more important than when you have it done is the consistency in which you have it done. It's important that you have this service done annually.
Maintenance tune-ups aren't a "luxury" for those who want to pay for it. They are a preventive measure taken to ensure the longevity, efficiency, and functionality of your cooling system. Skipping tune-ups puts your AC system at a higher risk for operational problems and potentially a premature breakdown. The advantages of routine maintenance for your air conditioner, heat pump, or even your heater is that you'll lower the operational costs of your system, and you'll help it last longer.
A More Reliable Air Conditioner: As we referred to above, the biggest benefit of AC maintenance is that the system is less likely to suffer from an operational problem over the summer, when you need it the most. A thorough system inspection from our HVAC professionals will uncover any areas where strain on the system can easily lead to breakdowns. A comprehensive cleaning helps to remove potential functionality issues.
System Efficiency: The buildup of wear and tear over the years creates more stress than necessary on the interior components of your cooling system. This is especially true for the blower motor. This results in higher energy bills, since your system will struggle to overcome the strain. By keeping up with regular AC maintenance, your system should be able to retain 95% of its efficiency rating throughout its lifespan.
System Longevity: What these other benefits add up to is an air conditioner that lasts as long as it's meant to. A well-cared for air conditioner should last between 10-15 years before needing replacement. Annual maintenance helps your AC system give you the best return on initial investment, since it will last as long as possible.
Contact our team today to schedule your next AC maintenance appointment and see what keeps our customers saying "I Love My Design Comfort!"