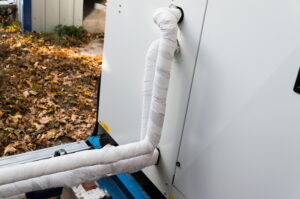 Are you hearing something that resembles air being let out of a tire, or maybe the last sip of soda being sucked out of a straw—but these sounds are coming from your air conditioning system? The most likely culprit for this noise is a refrigerant leak.
Refrigerant is a fluid that is supplied for the air conditioner upon manufacturing. Ideally, your air conditioner will have enough refrigerant from day one to last its entire lifecycle. Dishonest "professionals" may tell you that refrigerant needs to be recharged (refilled) on a routine basis, but this isn't the case. The only reasons your refrigerant should ever need to be recharged is in the case that it wasn't properly charged to begin with, or there is a leak.
The longer you wait to repair this leak, the bigger risk there is of serious AC damage happening, probably to the compressor component, which is essentially the heart of the air conditioner. But how do you know if you even have a refrigerant leak if you don't hear that hissing? Read on!