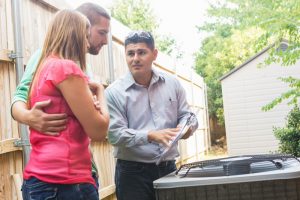 With summer officially here, it's just about time to turn on our AC's and run them pretty much non-stop during the day. But wait—what if your AC is aging and falling apart, or what if you've finally realized that the window AC units you've been using just aren't going to cut it one more summer?
If it has come time for you to have a new AC installed, we want to discourage you from rushing into your purchase. There are a number of factors to consider, including the proper sizing of your air conditioner, the brand and type of AC that will best fit your needs, and of course, who installs it.
An amateur installer won't have all the facts, skills, or experience necessary to install an air conditioner that will work as effectively and efficiently as it's meant to for as long as it's meant to. This is why you should hire a professional! But how do you know you're choosing the right one? Read on!
Look at Their Experience
You may think it's just fine to trust any handyman you can find a phone number for, or perhaps you have a neighbor or family member who's really into DIY projects, so you'll just rust them for the job. The fact is, "some" electrical and mechanical experience really isn't enough for a job of this caliber.
HVAC equipment is complex, and difficult to install or replace for anyone who hasn't done it before. You'll very likely find yourself calling in a professional anyway to fix any mistakes they made in the process.
In addition, you have the safety of your family to consider. While this applies more for gas-powered heating systems, air conditioners do have potentially harmful components too—such as refrigerant. Only a trained professional has the licensing and experience to manage all the components inherent in an HVAC system.
Are They Interested in the Best System for Your Home?
The AC system you choose for your living space has a large role to play in your family's comfort and even health. However, you don't want to pay more than you have to each month to achieve that comfort, right? When you hire the right AC installer, you'll have a professional on your side that knows the ins and outs of every type of air conditioner, and how it will best suit your home.
An air conditioner that specifically matches the individual needs of your household will operate as efficiently as possible, and will help you save money on your energy costs. This comes down to not only choosing the right type of system, but also a system that is appropriately sized for your home—something professional technicians are very skilled with.
Do They Offer High-Quality Products?
There is no one-size-fits-all answer when it comes to air conditioner installation. While a central AC system may be a great choice for one home, a ductless system might be the right option for another. When you work with a professional AC installer, you want one who installs and services all types of air conditioners, as to not limit your options and offers products that meet the high-efficiency standards of what's on the market today.
For a quality HVAC contractor in Salt Lake City, look no further than Design Comfort! Contact us today.