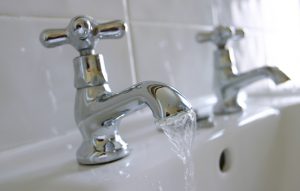 Water heaters are the "workhorse" of the home, accounting for up to 17% of your home's energy usage. This is because unlike your air conditioning unit and heater, a water heater is used frequently and on a daily basis. They also work hard to provide hot water to multiple other appliances. When your water heater starts to struggle, it quickly becomes apparent.
Watch out for these warning signs so you'll know when to contact us for water heater service in Salt Lake City. If you notice any of these signs of a struggling water heater, don't hesitate to give our team a call. No one should be stuck without hot water during the coldest time of the year!
Unusual Noises
A healthy hot water heater should make very little noise. The next time you use the hot water, listen to it while it is operating. A rumbling noise could be a sign that there is a buildup of sediment at the bottom of your tank. Unusual noises such as knocking and popping sounds could signal a serious issue and should be checked out immediately.
High Energy Bills
If you've noticed your utility bills have increased without a correlation in usage, this could be caused by a troublesome water heater. When your water heater struggles to do its job, it will expend more energy than it usually does. High energy bills are a strong warning sign your system needs to be checked by a professional.
Lukewarm or Cold Water and Water Delays
When you want hot water, you want it quickly and you want it to actually be hot. There's nothing worse than lukewarm or frigid water when you need to wash your hands or want to take a hot bath or shower. A lack of hot water and water delays are definite signs of a struggling hot water heater. Even worse, you'll end up using more water than should be necessary. This is bad for your water bill and wastes precious water.
Leaking
A traditional tank water heater lasts 8-12 years. As your water heater ages, its connections, valves, and lines can wear down and start to leak. If you have a leak in the pipes connected to your water heater or even a leaky connection, contact us for repairs as soon as possible.
Rust
A struggling water heater will show signs of rust in multiple locations. Rust could appear on the outside of the tank or it could show up in your water. Rusting on the outside of your water heater tank is an indication that rust has formed on the inside. Rust-colored hot water coming out of the taps can be caused by pipe corrosion or water tank corrosion.
Keep an eye and ear out for these signs your water heater is struggling and may need service soon. You don't want a suffering water heater to finally break down and disrupt the comfort of your family.
See what keeps our customers saying, "I Love My Design Comfort" and contact us today for professional and reliable water heater service in Salt Lake City!