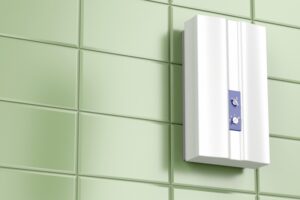 There's nothing better than a long, hot shower on a cold, winter day in Utah. And there's nothing worse than your hot water going out halfway through that shower, blasting you with icy cold water.
If your hot water heater is due to be replaced soon, or your existing water heater just isn't meeting the demands of your household, perhaps you've wondered if your home would benefit from a tankless water heater.
There are definitely pros and cons to tankless water heaters and things to consider when deciding between the two types. Read on to discover if a tankless water heater is better for your family's needs.
Tankless Water Heater Pros
Save Energy and Money: You'll save money over the long run compared to a tank water heater that uses electricity 24/7 to supply hot water on demand.
Longevity: Compared to standard water heaters which last 10-15 years, tankless models last from 20-25 years due to the fact that they're not always running and constantly storing water.
Unlimited Hot Water: You'll never run out of hot water halfway through a shower again.
Compact Size: They take up less space and can be wall-mounted.
Tankless Water Heater Cons
Cost of Unit and Installation: The initial cost of a tankless water heater is higher as these units cost more than their tank counterparts. Installation can cost more, too.
The Wait for Hot Water: You'll have to wait about 15 seconds before you'll get hot water, which can seem like a long time you're waiting for hot water to warm your hands and body.
Plumbing Changes: Tankless water heaters may require modifications to your existing plumbing system.
Additional Things to Consider
If you're mainly considering switching to tankless because your tank water heater isn't meeting the demands of your household, there's a very important factor to think about when considering tankless. Tankless water heaters aren't always necessarily able to keep up with your home's demands for hot water if the demand is too high.
If you have multiple fixtures and appliances demanding hot water all at once, then the system can get overwhelmed and may be unable to supply the level of hot water that you need. In this case, your home may require more than one tankless system.
Examining the hot water demands of your home is a good idea. Consider if you have an average amount of household members, or if some family members prefer to shower in the evening vs the morning.
Also, do you run the washing machine and dishwasher throughout the day or do these activities tend to coincide with other demands on your hot water system? Another possibility is to install a tankless water heater and have a small tank water heater reserved for a specific area of the home.
If you're wondering if tankless will be better for your home and the needs of your family, don't hesitate to give us a call. We can go over your options and help you decide what's best.
See what keeps our customers saying, "I Love My Design Comfort!" Contact us for tankless water heater service in Salt Lake City, UT today.