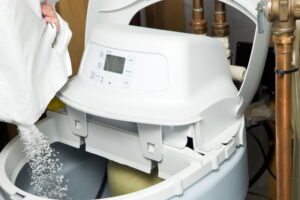 In our area, water supplies go through a large amount of filtration and conditioning before that water reaches your home's faucets and plumbing appliances. Alternatively, if you use groundwater from a well, you probably have your own water treatment system on site. But what many homeowners in either case don't realize is that they may be in need of a water softener to resolve hard water issues.
Hard water is the name given to water that has a high level of minerals in it—namely calcium, magnesium, and sometimes iron. If these minerals sound harmless, it's because they are. At least, they're harmless for you and I to ingest. However, they're not so harmless when it comes to your plumbing system and your quality of life. In fact, hard water can lead to plumbing leaks, faded clothing from the washing machine, and more.
But this can all be prevented with the installation of a whole-house water softener. So how do you know if you need one? Read on as we uncover some signs that this is the case.