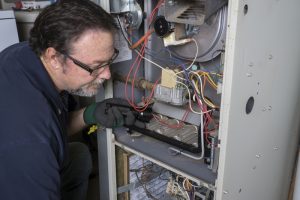 While there are certainly exceptions to the rule, it's safe to say that our weather is fairly predictable in our area. We would never expect to see snow in July nor would we expect to be able to use our swimming pools in January. That said, given that it's just about springtime, most homeowners in our area are getting ready to shut off their furnaces for the winter and turn their attention to air conditioning maintenance.
We definitely encourage this! Air conditioning maintenance will help ensure that your cooling system is clean, adjusted, and that any repair needs are taken care of.
But, speaking of repair needs, if your furnace needs any you'll want to manage them before you stop using your heater for the season. A suffering furnace sitting in wait all spring and summer means a potentially broken down furnace next fall.
So, how do you know if you have any furnace repair needs? Read on as we uncover some of the most common signs that you may be in need of heating service.
You Have a Drafty Home
Maybe you noticed that your living space isn't heating up as fast as it used to, or you're finding cold spots in certain areas of the home. If so, it may be that your heater is declining in performance. But it can also be something else, like a problem with a miscalibrated thermostat or damaged ductwork—both of which will also negatively affect your air conditioner!
Your Heater is Making Odd Sounds
No matter how minor the sound might seem, if your furnace or heat pump is making a noise you don't recognize or seems alarmingly loud, you're right to be concerned. A few sounds in particular that should absolutely warrant a repair call include mechanical clanging or banging, hissing, clicking, or even just general noisy operation.
Your Heating Bills Are Too High
Okay, so this one is a little subjective. After all, your heating bills are going to rise in the winter, right? What we want you to watch out for, however, is if they are rising well beyond what you paid this same time last year, or what your neighbors are paying for comparable use. If your heating bills are too high, it's a sign that your heating isn't working as efficiently as it used to and needs to be checked out.
The Heater Is Short-Cycling
You may have seen us talk about short-cycling before, in relation to HVAC installation. Short-cycling is when the system shuts off and turns back on rapidly, never completing a full heating (or cooling) cycle. A very common cause of this is that the system installed was too large for the space and can't adequately condition the home.
Therefore, if you've always had this problem with your furnace or heat pump, we're sorry to say you'll likely need a replacement pretty soon. However if short-cycling is a new problem for an older system, then it's likely that a quick repair call will do the trick. Of course, letting short-cycling go on for too long increases the wear and tear on your heater, so be sure to call right away!
See what keeps our customers saying, "I Love My Design Comfort!" Contact us today for your furnace service in South Jordan, UT.