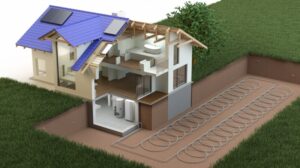 With changes coming to energy efficiency guidelines in just a few short months, if you've already been considering replacing either your air conditioner or your heater, now is the time to do so. And if you're looking to add a system to a brand new home build, or if you're remodeling or redoing your landscape, now might be the perfect time to consider the installation of a geothermal heating and cooling system.
Geothermal energy is a great way to cut back on your energy usage, and therefore your energy bills. In light of the Inflation Reduction Act also going into full effect starting January 1, 2023, making energy upgrades can be extremely beneficial to you, and a geothermal system is absolutely an energy upgrade. Read on as we uncover some of the advantages of switching from a more traditional central air conditioner or heater to a geothermal system.
How a Geothermal System Works
First, let's talk about how a geothermal system works. Also called a geothermal heat pump, this system operates similarly to one, by transferring heat rather than generating it. This makes a geothermal system capable of working as both a heater and an air conditioner.
In the summertime, a geothermal system draws heat from your home as a normal air conditioner does. The difference is that rather than venting the collected heat into the air, the system releases it into an underground pipe loop. When in heating mode, the system draws thermal energy from the liquid in the pipe loop and releases the heat into your home.
The pipe loops are installed 15-30 feet underground, which is why we alluded above that the best time to install one of these systems is during a new build or a home/landscaping remodel.
Geothermal Systems Are Reliable and Have Zero Carbon Footprint
Geothermal energy is created from the steady temperature of the earth–a reliable and consistent source of renewable energy, 24 hours a day. Solar and wind power are also great options for renewable energy, however, they do have their limitations without purchasing add-ons like battery packs. Therefore, geothermal is becoming a more and more popular choice for "green" energy.
It also doesn't require any combustion, unlike the fossil fuels of a furnace. As a result, there are almost no greenhouse gases emitted, and many geothermal power plants are actually capable of operating without any emissions at all.
Geothermal Energy Is Low Cost and Accessible
Geothermal energy, as we mentioned above, is a renewable resource. On the front end, your initial investment will likely cost more than installing a new air-source heat pump, air conditioner, or furnace. However, studies have shown that geothermal energy could potentially save homeowners up to 80% on their energy bills when compared to fossil fuels.
Geothermal energy is available practically anywhere. Where many homes are without a hookup to a city's natural gas line, and electrical grids have their restrictions, geothermal energy is always available.
See what keeps our customers saying, "I Love My Design Comfort" and contact us today for professional and reliable geothermal service in Salt Lake City!