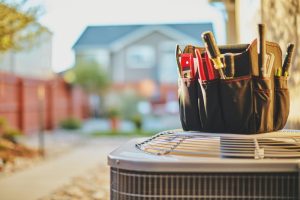 Spring is officially here! You may already have turned on your AC system for the season, and soon enough you'll be using it on a daily basis. The last thing you need when you turn yours on is a broken down system or sudden repair need. Of course, the best way to prevent this is with professional air conditioning maintenance, which gives our technicians the opportunity to thoroughly clean, inspect, and adjust any components that need it.
Even with maintenance, however, repair needs may still crop up, however minor they may be. And the good news is that most air conditioning service needs give out signs and symptoms long before they become a huge problem, if you know what to look and listen for. Keep reading to learn some of the common signs that you do, in fact, need air conditioner repair.
Low Airflow
Air that isn't moving through the vents with the speed you expect can be the sign of a big problem. It typically means that cold air is trapped within the system, which can cause the coils to freeze. Even if it doesn't cause this, reduced airflow means your system is working longer and harder than it should have to in order to meet the desired temperature on your thermostat. As a result you'll likely notice a spike in your cooling bills.
Lukewarm Air
So what if the power of the air is fine, but you're not getting cooled air coming through your vents? This can be due to low refrigerant, overheating components, or even breaches in your air ducts allowing conditioned air to escape into unoccupied spaces. This is easily detectable by air coming from your vents that's warmer than you'd expect.
Short-Cycling
This is the process where an air conditioner turns on and off rapidly throughout the day rather in regular intervals like it's meant to. Air conditioners use the most energy turning on and turning off, versus just simply running. So you want yours to run for about 15 minutes at a time. Otherwise, it's working too hard and never completing a full cooling cycle. This wears down on the system and doesn't allow it to perform as efficiently as possible.
Strange Noises
A strange noise can include anything from a humming or moaning sound to buzzing or clanging. Pretty much anything that doesn't match the normal sounds your system makes when it runs can be cause for alarm. Such sounds typically start and stop in time with the starting and stopping of your air conditioner.
Higher Than Normal Bills
Sometimes, a sign of an air conditioning problem won't present itself as a sight or sound associated with the actual system, but rather within your energy bills. If you notice an unexpected spike in your monthly bills—that is, an increase that doesn't match your bills from last year nor your neighbor's bills despite comparable use, then there could very well be a problem with your cooling system.
See why our customers keep saying, "I Love My Design Comfort!" Contact us today for exceptional service on your air conditioning in Salt Lake City, UT.