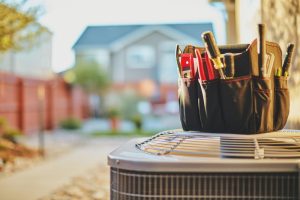 Winter is officially over! Well, okay, we still might be in for a couple of cold spells and the weather can always take a turn and surprise us later in the spring. But, the fact is that soon enough you will need your air conditioner on a regular basis each day.
Many homeowners are hesitant to schedule maintenance services for their air conditioners. We get it, it might seem unnecessary if there's nothing visibly wrong with your system and it's not showing signs of trouble. But trust us, your tune-ups are essential to the overall efficiency and effectiveness of your air conditioner.
So if you're ready to start thinking about warmer days, then it's time to contact a pro from our team. But, how does this service benefit you?
Maintenance Helps Your AC Run Better
Did you have any trouble keeping cool with your air conditioner last summer? Even if you didn't, maintenance tune-ups simply help them run better and keep you cooler. When an air conditioner doesn't seem to be cooling you off as it should be, you're likely tempted to turn your thermostat down lower and lower, but this is only making your cooling system work harder than it should have to, meaning you're spending more money than you should.
With a well-maintained air conditioner, you can go into summer with the confidence that you probably won't need to make any emergency repair calls, because it will simply just run better.
Maintenance Improves AC Efficiency
The buildup of natural wear and tear over the years creates more strain on the components of your air conditioner. One component impacted by this, in particular, is the blower motor. As a result, you'll see higher energy bills, like in the example above. If your air conditioner has its annual tune-ups, however, then it should retain 95% of its efficiency rating throughout its service life.
Maintenance Helps Your Cooling System Last Longer
Speaking of that service life, most air conditioner should last between 10-15 years before requiring replacement. But this is only possible if the system has routine professional maintenance done. Annual tune-ups will help your cooling system give you the best return on investment by lasting as long as possible.
Maintenance Means Fewer Repairs for Your AC
Nobody wants to spend extra money each year to have their AC repaired, right? Well, around 85% of the repairs an AC system may need throughout its lifespan are actually preventable, thanks to maintenance inspections that help our pros catch problems early on—which means huge savings in repair bills for you.
Join Our Maintenance Program!
Ask us about our Priority One Maintenance Program. In addition to the benefits mentioned above, you'll get preferred service, competent experts at your service, discounts on parts and repairs, no after-hours fees, increased equipment life, worry-free scheduling, and much more. Plus, enrolling in a program puts the onus on us to schedule your services for you so you don't have to remember to do so each year.
See what keeps our customers saying "I Love My Design Comfort!" Contact us when you need service for your air conditioning in Salt Lake City, UT.