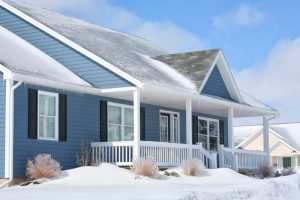 With temperatures still hovering in the 70's, there's a very good chance you're still using your air conditioner. Pretty soon, however, you'll look at the upcoming weather forecast and be ready to turn your AC off for good in favor of your heater.
That makes now the perfect time to schedule heating maintenance if you haven't done so already, and you can arrange for that right now by giving our team a call. We provide tune-ups for a wide range of heating systems!
But before you start using your heater full-time, we want you to take one very important step–turn off your air conditioner until next spring! And this isn't as simple as just flipping off a switch. Read on as we walk you through how to do this.
Preparing Your Air Conditioner for the Off-Season
The first step in preparing your air conditioner for the off-season is physically turning it off. But we don't just mean switching it from "cooling mode" to "heating mode" on the thermostat. After all, there is a chance that the thermostat could cause the AC system to cycle on briefly during a short heat wave, which could lead to ice and water getting sucked into the unit. Shutting it off at the unit reduces the chance of electrocution and functional problems with the system. There is an outside circuit to the condenser unit, which is usually under a flip lid. You'll want to open this lid and switch the system to "off."
The next step is cleaning off the condenser unit. you might need to wash it down in order to remove dirt and grime. Clear the area around this unit of leaves, branches, sticks, and any other debris. you want the condenser to be thoroughly cleaned before going to the next step.
After cleaning the condenser and giving it some time to dry (typically a few hours, to prevent corrosion), you'll want to place a waterproof cover over it. You can buy these covers relatively inexpensively at a hardware store. Alternatively, you can use a tarp tethered down with ropes or bungee cords. You'll want to make sure it can't be blown off the unit during inclement weather. This cover will protect your outdoor unit from accumulating moisture and debris that fall and wintertime bring.
Taking these precautions will ensure that your AC system is in good shape for when spring rolls around again next year. You'll still want to schedule maintenance for your cooling system, but it won't sustain any additional damage over the winter. And remember to shut that switch back on! You don't want to panic when you go to switch to cooling mode on your thermostat and your system doesn't start up.
If you need any help shutting down your system or want to address repair needs before you do (always a good plan), please don't hesitate to reach out to our team.
See what keeps our customers saying, "I Love My Design Comfort!" Contact us today for quality Park City, UT HVAC services.