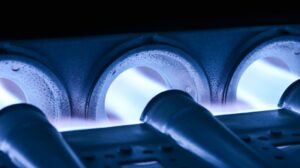 With temperatures trending downward, now is the time we all start thinking about our heating systems—how well they're working, how much you're paying for their month-to-month use, and any repairs you need have done on these systems. We hope, too, that you've considered the most important fall step you can take for your heater—scheduling heating maintenance!
Maintenance is the best way to keep your system functioning as efficiently as possible for as long as possible, while avoiding up to 85% of the repair needs the system might ever have. Read on as we uncover just why it's so important to have this service done, and how your system and your budget will benefit.
The Benefits of Routine Heating Maintenance
We really want to stress the word routine here. Furnace or boiler maintenance should be arranged annually for that system to enjoy the full benefits we are about to dive into below. Oh and if you have a heat pump system? This is a year-round climate control system and therefore needs a tune-up twice a year.
Here are some of the main benefits of keeping up on your professional heating maintenance appointments:
Safety: One of the main tasks our HVAC technicians perform during your heating maintenance appointment is to check to see that your system is running safely and doesn't need any big repairs. This is especially important when it comes to gas-powered furnaces.
Gas-powered heaters are not inherently dangerous. But if maintenance is skipped, it does certainly increase the risk of harmful gas and carbon monoxide exposure in your household.
Retain Your Energy Efficiency: No matter what type of heating system you have, it's going to start losing energy efficiency the longer it goes without maintenance. This drop can be steep within a few years, resulting in the system draining 25% more power than it should.
On the contrary, with routine maintenance, your system can retain 95% of the efficiency rating it had upon installation throughout its entire service life.
Fewer Repair Needs: We alluded to this benefit above. Most repairs can be prevented if you keep up on regular maintenance. What happens when you skip maintenance is that a small problem can turn into a much bigger one and lead to a complete heater shutdown.
For example, let's say your motor bearings wear down and run out of lubrication. This is a really easy fix for us, and something we'd catch during maintenance. But if you skip maintenance, and don't hear any indication of metal on metal, then this can eventually lead to a burnt-out motor.
Longer System Lifespan: Replacing a heater years before you expect to is an expense that nobody wants, right? You want to receive the most years possible from your furnace, heat pump, or boiler. If you don't have your system professionally maintained on a regular basis though, it can fail years earlier than it's meant to.
A heater that is well maintained can typically last 10-15 years, depending on a number of other factors.
See why our customers keep saying, "I Love My Design Comfort!" Contact us today to help prevent Park City, UT heating repair by scheduling your next tune-up!