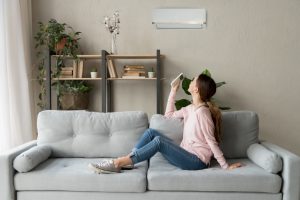 Were you aware that there is a singular alternative to owning both an AC system and a heating system? A ductless system is the answer to this, and not many homeowners know all the benefits of such a system, though they are becoming increasingly popular! They're great systems for keeping your home efficiently warm in the winter, and effectively cool in the winter. So if you're in the market for a new air conditioner or a new heater, you'd do well to consider going ductless.
And look we get that choosing the right heater or air conditioner for your home can seem daunting. After all, there are a plethora of options to choose from. This is why we recommend you talk to an experienced professional, who will help guide you in making an educated decision about which way to go. Not all homes are the right fit for a ductless system after all, but ductless units certainly benefit a lot of homes, in 4 specific ways. Read on as we uncover these 4 reasons to consider going ductless!
They're Versatile
Ductless systems are able to both heat and cool homes, as mentioned above. This allows for efficient year-round comfort. A ductless system is comprised of a single outdoor unit connected to up to four indoor air handlers, and uses refrigerant in its cooling process like an air conditioner does. The difference is, there is a switch that reverses the flow of refrigerant to also provide heating.
They Save Space
If you don't already have central cooling or heating in your home, this means you don't have ductwork either. Can your home even accommodate the installation of ductwork? How about an indoor unit for your air conditioner or furnace air handler? Ductless systems take up far less space due to their set up, with the small indoor air handlers having the capability of being installed up high on walls throughout the home, out of the way.
They Are Cost-Effective
Why should you worry about servicing two different HVAC systems when you could get by with just one? When you go ductless, you no longer have to worry about repairing, maintaining, or replacing two separate systems when the time comes.
They Are Highly Energy-Efficient
Due to their set up, ductless systems function on less power than more traditional systems. A central furnace, for example, generates heat, which takes a lot of power. A ductless system, however, which operates on heat pump technology, transfers heat. This uses up a lot less power.
Plus, since ductless systems have no ductwork, they help you avoided the energy waste associated with duct leaks. A breach in ductwork can account for over 30% of leaked air. This is conditioned air that you're paying for regardless if you actually get to enjoy its benefits or not. Ductless systems completely avoid this problem. While you still need to ensure professional installation and maintenance, you don't need to worry about any ductwork involvement.
See what keeps our customers saying "I Love My Design Comfort!" Contact us today for expert heating and AC installation in Salt Lake City.