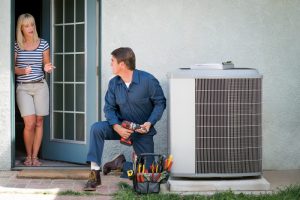 As we approach the official end of summer and begin to prepare for cooler temperature and heating system use, you may be wondering if you should bother replacing your aging air conditioner yet. Isn't it too late to install a new AC? It would be pointless, right? No, and no!
It's never too late to install a new air conditioner. In fact, now could be a perfect time. As our temperatures shift you may even want to consider if your heater is up to the task of keeping you warm this winter. Perhaps you'd benefit from a heat pump or ductless system installation. Read on as we explore your options and the importance of professional air conditioning installation.
Your AC Installation Options
As we alluded to above, you have many options when it comes to what type of air conditioner to purchase and install. If you've always had a central air conditioner, and your ducts plus your heating system are in good shape, you may choose to upgrade to another, but with higher efficiency.
If your furnace is also close to failing, and/or your ductwork has damage to it, then a ductless system may be the better choice for you, since it allows you to heat and cool all from one system, efficiently and effectively.
No matter what though, it's important that you only trust a professional for the installation job.
Why Professional Installation Matters
One of the biggest, if not the biggest, reasons we encourage customers to only work with trained and experienced professionals for their AC installation is to ensure that you're matched with the right system. We mean system type, sure, but we also mean system size. 
Just as you would expect, a system that's too small for a home won't be able to effectively cool it. A little more on the unexpected side–an air conditioner can be too big or overpowered for a home. When this occurs, the air conditioner will short-cycle. That is, it will rapidly turn on and off, never actually completing a full cooling cycle. This wears down on the system, increasing wear and tear and decreasing the overall service life of the equipment.
When our professionals come to install your air conditioner, we will:
Remove the Old System
This is actually a lot more laborious of a job than most homeowners realize. Careful attention must be given to ensure nothing is knocked out of place and that the old unit is properly disposed of–there are components that shouldn't be handled by just anyone, such as refrigerant.
Make Mistake-Free Connections
Your air conditioner installation also involves connecting the unit to the electrical wiring as well as your ductwork. Mistakes with electric components can be hazardous, while mistakes connecting ductwork can leave you with an inefficient air conditioner you'll pay too much to run.
Test Your Air Conditioner
This is the last step of your air conditioning installation, and the most important. Our professionals will turn the system on and measure the intake and airflow. Once we've made sure that operation is sufficient, then we can call the job finished. An amateur won't be able to guarantee that your new air conditioner will actually work. No need to worry about that, though, when you reach out to our team!
See what keeps our customers saying, "I Love My Design Comfort!" Contact us today for professional air conditioning installation in Salt Lake City.