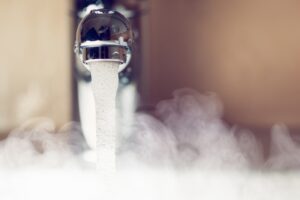 Here in Utah where the winters are cold and frigid, you need a heating system you can depend on to keep your home warm and cozy. But have you given much thought to how much you rely on your water heater for your home comfort?
Although you rely heavily on your heater during the winter, you use water 365 days a year. Just think about how often you use water in your home. The day starts off with hot showers, breakfast, and coffee. You run the dishwasher and a load of laundry. You wash your hands multiple times throughout the day to keep germs at bay. When you think about it, the water heater is the true workhorse of the home!
Unfortunately, disruptions to your supply of hot water become readily apparent. If your water heater's performance is suffering lately, you may be hoping that all you need is water heater services in Salt Lake City, UT. But if you notice any of the signs below, it means it's possibly time to replace your water heater.
Lack of Hot Water
Not having enough hot water to serve your household is one of the first signs that a water heater is declining and is possibly due for replacement. Be on the lookout for any of the following:
Family members are complaining that there's not enough water to go around for morning showers.
The washing machine and dishwasher don't seem like they're getting your dishes and clothes clean enough or there's not enough hot water to last the full cycle.
Your water is hot at first but then turns icy cold.
Your water is lukewarm or doesn't heat up to your desired temperature.
Age of Water Heater
Knowing the age of your water heater is essential to trying to estimate when it needs to be replaced. The average lifespan for traditional tank water heaters that have been maintained and serviced regularly is 8–12 years. For tankless, they can last up to 15 years and sometimes longer.
If you know your water heater is on the tail end of its lifespan and it's just not performing as well as it used to, consider a pre-emptive replacement. Water heater technology has advanced in the last decade and upgrading your current model will result in greater efficiency and lower utility bills. You'll also eliminate the headache and hassle of dealing with a poorly performing water heater.
Water Leaks and Corrosion
Water heaters are built to keep the water where it belongs: inside the water tank. They're also designed to resist rust and corrosion. However, no water heater can outlast the wear and tear that comes with the aging process.
If you ever see water leaking from your water heater or if it's pooling around the base, you need to call ASAP for repairs. Our technicians can assess your water heater and give an honest opinion on whether it's repairable. However, a tank with visible signs of rust and corrosion should also be looked at sooner rather than later as it's likely to spring a leak. A rusted-out water heater tank needs to be replaced.
See what keeps our customers saying "I Love My Design Comfort" and contact us for water heater service today.