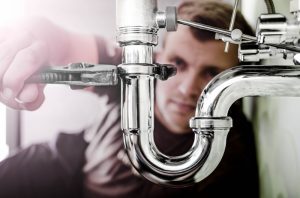 Although most New Year's resolutions usually have something to do with health, a lot of people make other types of goals. They might prioritize spending less time on their smartphones and more time on their hobbies. They might make resolutions for their jobs, families, and even their homes.
If you've resolved to take better care of your home in the new year, here are 7 plumbing resolutions to make. By following these tips, you can hopefully avoid the need for unexpected plumbing service in Salt Lake City, UT.
1. Take Care of Those Repairs
It's easy to ignore minor plumbing issues such as a bathroom faucet with a slow drip or a toilet that makes a strange noise after you flush it. You see these things as minor inconveniences that don't warrant a call to a professional plumber for repair.
However, small problems that are ignored have the potential to become large problems that are harder–and more expensive–to fix. That's why we recommend that you have us check those minor plumbing issues before they become major hassles.
2. Drain Strainers and Covers for Bathroom Drains
One way to avoid clogs in your bathroom sink and shower drains is to use drain covers and strainers. These simple and inexpensive devices are available at any hardware store. They're designed to keep hair and soap scum from building up in your drains which can lead to slow drainage and clogs.
3. Winterize Your Pipes
If your pipes aren't insulated or if you haven't checked on your pipes' insulation in a while, there's no time like the present. Here in Utah, pipes are susceptible to freezing, and making sure they're well insulated can guard against the hassle and headache of frozen pipes.
4. Be Kind to Your Garbage Disposal
Here's a good rule of thumb to follow: don't put anything down your garbage disposal that you can't or wouldn't want to chew. Oil, grease, bones, coffee grounds, fibrous vegetables, fruit skins, onion peels, and potato skins are examples of food items that should never go down the garbage disposal.
4. Schedule Water Heater Maintenance
Most homeowners know they're supposed to have their furnaces maintained once a year, but did you know the same is true of water heaters? Your water heater is the workhorse of your home and it needs the benefits that routine maintenance brings.
5. Conserve Water
If you want to be more eco-conscious in the new year, consider upgrading to water-efficient toilets, low-flow showerheads, and a tankless water heater. Getting those slow leaks fixed promptly will also conserve water.
6. Don't Treat Your Toilet Like a Garbage Can
The only thing that you should ever put in your toilet is toilet paper. Paper towels, tissues, makeup wipes, cotton balls, dental floss, and cat litter are all things that can cause issues.
7. Don't Use Harsh Drain Cleaning Chemicals
You should never use drain cleaning chemicals in an attempt to clear a clog. These products can damage your pipes and cause more problems down the line–literally!
See what keeps our customers saying, "I Love My Design Comfort" and contact us today for professional and reliable plumbing service in Salt Lake City!