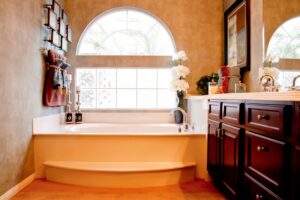 If you came across this blog post, then we're going to guess that your bathroom doesn't look the way you would like it too, right? Maybe it is not as functional as you think it could be, or perhaps you're having trouble moving around the space with ease.
Depending on your specific scenario, a bathroom remodel can be a great idea! After all, aside from your kitchen, the bathrooms are often the most used rooms within a living space, and remodeling can give you a great new space.
But it's very important that when you're considering a bathroom remodel, you consider what that remodel means for the plumbing. Preparing and planning the right way for all components of your remodel job will make a huge difference in your results. There might even be things you haven't consider at all about your bathroom plumbing. Read on to learn what they are and to avoid some of the most common problems with your bathroom remodel.
Think About Practicality
This is the first thing we'd encourage you to think about. Aesthetics come later! Understandably, the primary reason most homeowners even plan a remodel at all is for aesthetics, and remodeling gives you a great chance to change the look of a space.
But when it comes to your bathrooms, you'll want to think about how easily you'll be able to use your shower, sinks, and toilet. In addition, you don't want to forget about how much counter space you'll want for toiletries. Lastly, you'll want to consider the daily needs of your entire household. Then you're ready to begin thinking about aesthetics.
Consider Square Footage
Our experienced and highly trained plumbing professionals can work wonders while making effective use of your bathroom space, allowing you to fit in the various fixtures and appliances that you will need and want in a usually crowded space.
Remember though, every bathroom has its space limitations, which you'll eventually reach. But when you work with a qualified plumber, you'll have professional help in deciding how many of your remodeling goals you can realistically meet. We're happy to help you manage expectations while still getting a beautiful result.
Consider the Proper Steps to Take
Let's say you've decided not to hire a professional and take on a bathroom remodel all on your own. This is, of course, your choice! But we want to make sure you understand all the steps you need to take to avoid problems–otherwise, you'll probably find yourself calling a professional plumber anyway to resolve issues that came up. Some common issues that could crop up if proper steps are not followed include:
Not measuring correctly for toilet placement. This measurement is called the toilet rough-in and it differs from older homes to newer homes. It can even differ depending on the size of the bathrooms in your home–sometimes a guest bathroom will have a smaller rough-in than the master bath.
Not properly venting the drains. This can lead to a dry sink trap, leading to unhygienic problems with the sewer system backing up.
Not sloping the shower floor properly. This will lead to standing water, which can cause mold and mildew growth over time.
See what keeps our customers saying "I Love My Design Comfort"! Contact us today for quality service on your bathroom plumbing in Salt Lake City.