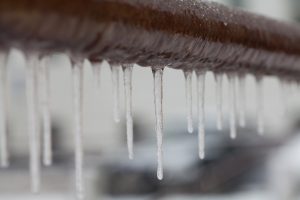 The weather is getting progressively colder and drier, leaving many homeowners to scramble to make their HVAC maintenance calls if they haven't already, or ensuring their indoor air quality equipment is in good shape to get the through the season. But as temperatures drop, be sure you don't forget one other very important system in your home—the plumbing system.
We recommend that if you haven't already, you take precautions now to help prevent pipe freeze. This can include disconnecting outside homes and faucets, insulating your host bibs, and checking to ensure any exposed pipes in your home are insulated—this includes indoor pipes that are under your bathroom and kitchen sinks! If you're looking for more tips on how to best prepare your home for winter temperatures, don't hesitate to reach out to our team for professional Salt Lake City plumbing services.
In the meantime, what do you do if you're reading this post and your pipes already froze?
First, Let's Start with What You Should Not Do
If you've discovered or suspect you have a frozen pipe or multiple frozen pipes, please do not:
Use some sort of space heater, kerosene heater, or a blow torch (yeah, people have tried it) to thaw out your plumbing. This actually increases the pressure in your pipes too much, too quickly, leading to pipe burst and subsequent water damage.
Use a hair dryer to thaw the pipes. Not only is this probably not even enough power to make much of a difference, if any, but it raises your risk of electrocution.
Ignore it. Pipe freeze should be handled right away!
"Okay, So What Should I Do?"
Call our plumbing professionals! This is our specialty, and we can have your frozen pipes fixed ASAP, without danger of bursting or cracking.
Open up the faucet at the end of the frozen pipe. This helps to relieve pressure within the pipe and makes the chance of a burst pipe less likely.
Once our plumbing professionals arrive on the job, we can handle it from there. We're also happy to help you with advice and installations that can help prevent frozen pipes in the future.
"Do I Really Need to Worry About This Problem?"
Well, yes. Frozen pipes are not only inconvenient, but they can end up being costly too. This is especially true when you consider the property damage that can occur due to an onslaught of water coming through those pipes. The best thing you can do is call in our pros so we can give an accurate assessment and determine if you do in fact have frozen pipes.
Again, trying to thaw frozen pipes on your own can end up doing more harm than good. Plus, it can injure you if you're close enough to the pipe when it bursts. If you do find yourself with frozen pipes, even if you took the appropriate preventive measures, don't hesitate to give us a call.
See what keeps our customers saying "I Love My Design Comfort!" Contact us today.