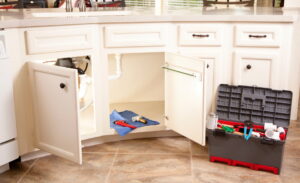 Having a clogged drain may not seem like a huge deal. It's usually a pretty simple fix and many homeowners address drain clogs on their own without ever calling for professional help. But does that mean DIY is the best way to handle a drain clog? Sometimes yes, but other times no.
We have three tips to help you break down a tough drain clog yourself the safe way. If your efforts don't work, you can always call us for plumbing in Salt Lake City. We can help break down even the toughest clogs and even prevent them from coming back again in the near future. You can keep reading to learn more about our top three tips for clogged drains around your home.
Tip #1: Skip the Chemicals
Nearly every store in your town sells drain cleaning chemicals. They usually boast the power to break down even the toughest clog. All you have to do is pour the chemical into your drain, let it sit long enough to break down the clog, and then rinse it away. But these chemicals are doing more than just breaking down tough clogs.
They are also slowly corroding the inside of your plumbing. And these chemicals even leave behind a residue that can contribute to more clogs in the future. No matter how tempted you are, it is important to pass on using drain cleaning chemicals at any time.
There are much better options out there that can help you break down tough clogs without any risks. Because aside from the damage to your plumbing, these chemicals are also very dangerous for your home and your health. It's better to avoid them completely than to take a risk in using them because it seems like the easiest option.
Tip #2: Try a Snake Tool
If you absolutely want to attempt to break down a clog yourself without giving us a call, we encourage you to use a snake tool. Most hardware stores sell them and they are very easy to use. You push the snake tool down into the drain where it helps to grab and break down the clog. You can then pull the clog back up out of your drain to remove it.
If you use this method, we encourage you to take some additional steps to clean the inside of your pipes before placing drain covers back on. Pour some boiling water or vinegar into the drain to help remove any leftover residue from the clog. If you do not remove the clog completely, residue that gets left behind may help to form another clog again in the future.
Tip #3: Call a Professional
If your efforts to break down a tough clog don't work, just give our team a call. You may feel silly calling us for something as simple as a drain clog, but it's what our team is here for. We have special cameras and hydro jetting tools that we can use to eliminate clogs completely without any residue left behind. This is the best way to ensure the safe and permanent removal of a clog.
See what keeps our customers saying "I Love My Design Comfort" and contact us for plumbing services.