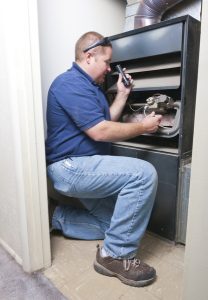 In the absence of a complete furnace breakdown, which may require replacement of the system altogether, no it is never too late for furnace maintenance.
"But I always hear that I need to schedule it in the fall…"
Yes, that's true, this is our recommendation for your heating maintenance. The reason we suggest this is because it gives our techs a chance to thoroughly inspect, adjust, and clean your system before you need it the most. We also recommend that you have air conditioning maintenance done in the spring for the same reason.
Is maintenance really a big deal though? Read on as we answer that question, in detail.
The Various Advantages of Heating Maintenance
We can understand that to the average homeowners, maintenance might not seem like a worthwhile investment. After all, if nothing is wrong with your heater right now, why spend money on services? The thing about maintenance though, is it helps prevent anything from going wrong, plus it provides the following benefits:
Energy Savings: One of the biggest advantages of a heating tune-up is the energy savings you'll get as a result. Annual heating maintenance gives you a heater that will perform powerfully and efficiently for the years to come.
When you trust our technicians to complete your heating tune-up, you can count on a heater that's in the best working condition possible—costing you less money in the process.
Additional Comfort: We don't need to tell you twice just how chilly it gets in the Salt Lake City area. Therefore, you want to ensure that your heater performs as powerfully as possible. When we do a tune-up, we clean the system thoroughly and make any adjustments that might be needed.
We'll also make recommendations for repairs as we notice them. These steps ensure the powerful operation from your heater that you expect.
Repair Prevention: Not all repairs are 100% preventable. However, you can certainly prevent a small repair need from having a domino effect in your system and creating a much bigger emergency, by keeping up on your annual maintenance appointments.
Longer System Lifespan: Naturally, the better and more efficiently your heater operates over the years, the less wear and tear it accumulates in that timespan. The average expected lifespan for a furnace is 10-15 years, but without annual maintenance, you can expect this lifespan to be cut in half!
Ask about Our Priority One Maintenance Program
So there you have it, a well-maintained system is more efficient, more powerful, and lasts longer. These are all great! But who should you call to actually perform your maintenance?
When you turn to Design Comfort, you can become a member of our Priority One Maintenance Program. Priority One members get preferred treatment with priority service—we strive to provide service within 24 hours!
We don't require you to sign a contract either, which is rare to offer in our industry. In addition to this, you'll get discounts on parts & repairs, VIP pricing on upgrades & accessories, inflation protection, and much more!
See what keeps our customers saying, "I Love My Design Comfort"! Contact us today for quality heating maintenance and furnace repair in Park City, UT.