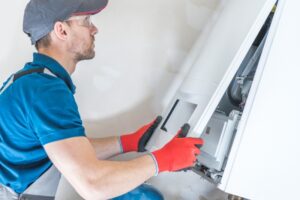 So your heater is struggling, huh? If you have a technician on the way, then you're in good shape! Unfortunately, though, we can't always show up as quickly as you'd like–and on the chilliest of days, even 30 minutes can seem like a lifetime.
Fortunately, not all is lost! We have some tips for things you can do to keep warm while waiting for your furnace repairs–try these out and before you know it, we'll be at your door ready to work on your furnace needs.
Bundle Up!
Look, we know it can seem silly to wear a parka when you're indoors, but
We don't judge! And…
There are some instances where you simply need to just swallow your pride and give in to the silliness for the sake of your comfort!
Grab your comfiest jacket, your fuzzy socks, and that beanie and scarf combo you love so much, and cozy up on the couch until help arrives.
Cook a Warm Meal
There are two benefits to this–not only will eating hot food allow you to warm up, but the act of cooking it will warm you up too. Plus, if you use your oven, and as long as there are no curious pets or small children in your home, you can crack the oven door open while it's cooling off after you cook to allow the heat to dissipate throughout your living space.
Cozy Up with Your Household
You're likely very familiar with how fast a room can warm up if there are a lot of people in it. Well, use this concept in your home! Gather everyone together in the same room and enjoy a movie or play some board games to pass the time. You'll be entertained, and get the benefit of bonding time, all while staying warm.
Enjoy the Sunshine
No, we don't mean we want you to go hang out outside in 30° weather while there is still snow on the ground. But you can still benefit from the sun indoors! Go around your home and anywhere that gets direct sunlight–namely, south-facing windows-open the curtains and let the sunshine in. The radiant heat will help warm things up a bit.
Move Your Body
Being active for just 10-15 minutes is enough to raise your heart rate, and also your body temperature. Try enjoying some exercise or even having a "dance party" with your family–or even by yourself! You'll have fun, get some energy out, and be able to warm up.
We get how much of a pain it can be to deal with a heating system that isn't cooperating. With the tips we shared above though, you at least have some easy and hopefully fun ways to stay warm while you wait for one of our professionals to get your heater up and running again.
Please don't hesitate to reach out!
For professional furnace repair in Salt Lake City, look no further than our team. Contact us today and find out what keeps customers saying "I Love My Design Comfort!"