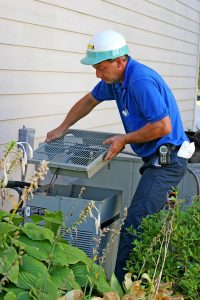 If you've never had maintenance done for your air conditioner, and/or it's broken down to the point that no repair will get it back up in running, then it is too late for AC maintenance. This is literally the only case in which it would be "too late" for a Salt Lake City air conditioning tune-up. Otherwise, while we do recommend getting that tune-up done before the heating season begins, there really is no wrong time of the year to have it done—so long as it's scheduled once a year (twice a year for heat pumps).
"Okay, but I can skip it this year, right? My AC is working fine after all."
The fact of the matter is, AC maintenance is one of the most important, if not the most important, services you can have done for your cooling system. It keeps your air conditioner clean, adjusted, and it grants you the peace of mind that it has been thoroughly checked over by a pro. Maintenance tune-ups are not a luxury service—they should be done on a regular basis.
Why AC Maintenance Is So Important in Our Area
The climate here in Salt Lake City is certainly cold during the winter. But, our summers pack quite the punch. Given that it's warm and often humid for much of the year, your air conditioner goes through a lot of work, and your maintenance sessions help make sure that your AC system is always ready to deal with that hot weather, even if it's during an unseasonably hot week.
Skipping Maintenance Means Higher Utility Bills
It is estimated that every year you skip maintenance on your cooling system, that system loses on average 5% of its efficiency. That drop will grow exponentially throughout the years. You'll end up paying more to run your air conditioner even though you aren't reaping the benefits of its comfort.
You Might Avoid a Sudden Breakdown
The most immediate need for a routine maintenance session is to prevent your air conditioner from suddenly breaking down on you when you need in the most. There are plenty of blazing hot summer days we deal with, and you want your air conditioner to get through each of them without any surprises.
Prevent Frequent and/or Unnecessary Repairs
Do you really want to start next summer spending all your extra money on repairing your air conditioner, when instead you could be spending it on leisurely activities and spending time with your family and friends? Just with one simple tune-up and inspection, no matter when you have it done, manages nearly 80% of the repairs your AC might need.
Sign Up for Our Maintenance Program
Did you know you don't have to rely on remembering to schedule maintenance each year? When you enroll in our maintenance program, you can count on us to call you, giving you the peace of mind that your air conditioner will always be well taken care of. And that's not the only benefit of our program either!
You'll get priority customer status, discounts on parts and repairs, and a number of other benefits, in addition to making sure your system operates at peak efficiency.
See what keeps our customers saying "I Love My Design Comfort!" Contact us today for expert AC services.