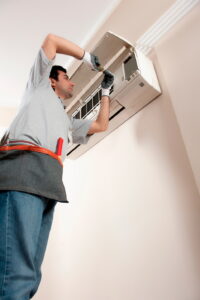 If you're like a lot of homeowners, you may be wondering if there is a correlation between investing in AC maintenance and having fewer repair needs. The answer to this is a resounding yes! The better care you take of your air conditioner, the less likely you are to have problems.
And this is great news when you want to avoid unexpected AC breakdowns. Of course, when you do need to schedule service, you can always give our team a call for air conditioning repair in Salt Lake City. But you can also keep reading to learn about all the ways that AC maintenance helps you prevent problems from getting so bad that your air conditioner stops working completely.
Importance of AC Maintenance
Why is AC maintenance so important? If your air conditioner is running without any issues, do you really have to invest in AC maintenance? While you can skip out on AC maintenance and your air conditioner may work fine, there's just as much of a chance that something will go wrong and there are just no obvious signs yet. 
One of the primary goals of AC maintenance is to take a close look at your system and identify any potential problems before they have a chance to get out of hand. After all, air conditioning problems don't just happen overnight. Instead, they start as something small going wrong and worsen until it is a problem you can no longer ignore. Sometimes, your air conditioner breaks down completely by the time you realize something was wrong.
AC maintenance is a great way to have expert eyes look at your air conditioner and identify even the smallest things that have the potential to cause big problems. Our team can tighten bolts, offer suggestions for how to use your AC more efficiently, and even replace parts that are wearing out before they break completely. Examples of this include the belts, capacitor, and even the coils.
Risks of Skipping AC Maintenance
Many homeowners think that they are saving money by skipping out on the AC maintenance. If your air conditioner is running great with no signs of problems, you may feel like AC maintenance is an unnecessary expense. However, that mindset will end up costing you more over the life of your system in a few different ways.
First, it can cost you in time. Investing in AC maintenance helps you earn additional time on your air conditioner's lifespan. Skipping out on AC maintenance can make your AC's lifespan shorter than average. Instead of lasting for 15 years, maybe your air conditioner will only last for 10. When you consider that you could have gotten 20 years out of your air conditioner by investing in maintenance, you're really cutting the lifespan in half.
But skipping out on AC maintenance can also cost you money too. Scheduling AC maintenance on your terms is more affordable than scheduling a service appointment because of an emergency breakdown. It's also more cost efficient to stay ahead of problems and fix them when they are small rather than paying to replace more expensive components later on. There's also the likelihood that you will have more repair needs when you skip out on maintenance than you would otherwise.
And remember, skipping out on maintenance even just once or twice over your air conditioner's lifespan can have a negative impact. If you already know you won't be able to schedule maintenance appointment for the time that you usually would, go ahead and schedule service for a little earlier or a little later, because that is better than nothing at all.
See what keeps our customers saying "I Love My Design Comfort" and contact us for AC services.