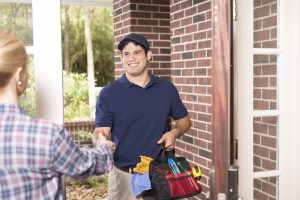 It's easy for an HVAC company to tout their best qualities, but the problem is, not all of them deliver.
When you are looking for a company to install an air conditioner, fix a broken down HVAC system, or even give you advice on how to improve your indoor air quality, you want to work with a team you can trust. But do you know what to look for to ensure this is the case?
We've offered some pointers below, as well as why these factors matter and why you should only trust a pro for your HVAC work.
They Have a Physical Location
Just about any stable, for-profit company will have a physical base of operation. Not having a physical address doesn't necessarily mean they're unscrupulous—you may be dealing with a beginner who is working out of their home and doesn't want to divulge their personal address. But other times, a lack of an address can be an indication of a scam situation.
You can avoid this pitfall by doing your homework, and researching HVAC companies thoroughly. It's pretty simple to do an online search to find a business and see where there is, in fact, office space at that address. If you're concerned that the company you've chosen is not legitimate, you can also check out the Better Business Bureau site to confirm.
They Carry Appropriate Licensing
Since HVAC installation and services are complex undertakings (and, could be potentially hazardous—especially if you're having gas-powered equipment installed), technicians need to have the right training, education, and licensing to do the job.
Additionally, company staff should be registered with the state where your HVAC contractor is based, and they need to keep their license and related paperwork up to date. Before you hire a contractor, be sure to check the status of their licenses—which they should be happy to divulge—and this will tell you if they're in good standing.
They Present Themselves Professionally
Now, no HVAC technician is going to show up at your door in a suit and tie—this would be impractical. However, you should be able to reasonably expect an HVAC pro to present themselves professionally and take pride in their work. This includes greeting you with respect and courtesy, particularly since the HVAC profession is a community and customer-centric one.
As part of that professionalism, your HVAC technicians should always be prompt. After all, no air conditioning problem or HVAC problem happens at a convenient time. So if you're sitting around on a hot summer day expecting a technician to show up by noon, they should not be rolling in around 1—at least, not without adequate warning and an explanation. A reputable business will always value your time and want to do everything they can to earn your trust.
In addition to everything we've mentioned above, it's important that the HVAC contractor you choose, and their staff, have extensive HVAC knowledge. "I don't know," should never be an answer to a question you ask, unless it's followed up with, "but I'll find out right away!"
When you need a trustworthy HVAC contractor in Salt Lake City, UT, look no further than our team. Contact us today to learn what keeps our customers saying, "I love my Design Comfort!"