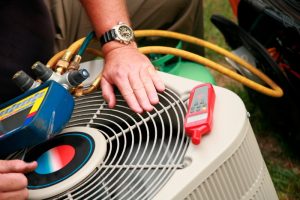 Although we're seeing some cooler temperatures at night, we aren't quite out of the woods as far as summer is concerned! That being said, if you didn't have Taylorsville, UT AC maintenance done before summer came, the time to schedule it is now. While it's ideal to schedule this service before long periods of AC use, it's never too late for such a service—until your AC system breaks down, that is!
This is the time of year that we're using our AC systems for 24 hours straight, and as such you don't want any damage to incur due to neglect—but this is the time of year that damage is most likely to occur for that reason. The last thing you want to do is find yourself stuck without any cooling during one of the hottest days of the year, which may not be behind it quite yet, and can be uncomfortable and unhealthy.
The Power of Preventive Maintenance
Just as the name indicates, preventive maintenance helps you avoid the worst of air conditioning problems that can crop up. Forgoing this service appointment could leave you paying more for repairs than you should be, and also shorten your cooling system's lifespan. Too many homeowners wait to call for professional AC services when they notice a problem—but by then, they may already have a system that's beyond help.
When the choice is between facing a rushed AC replacement on a potentially sweltering day or scheduling a tune-up for your system, then you likely see why the latter is the better decision. Another important detail to remember is that most AC problems don't give off any warning signs until they've had some time to do damage to your system—and by that time it might be too late to avoid the majority of the damage. Preventive care means hiring a professional to fully inspect and clean your air conditioner on an annual basis—or biannual, if you have a heat pump.
Schedule Necessary Repairs Right Away
One of the main reasons we put so much importance on preventive maintenance is that it gives our professional HVAC technicians the chance to look for any small repair needs that may have cropped up in the past 6 months to a year. The likelihood of an AC system never needing repair during its 10-15 year lifecycle is pretty slim, even with regularly scheduled maintenance. So, if you're told during this appointment that you actually do need a repair, it's best to schedule it as soon as you can.
Doing this will afford you the peace of mind that your cooling system will get through the rest of summer, and any surprise fall heat waves that our climate wants to throw at it. Taking care of necessary repairs quickly also helps prevent a bigger air conditioning emergency from happening. Ignoring your system's repair needs, or waiting until your next maintenance session to deal with it, only increases the chance that things will get worse.
Learn why our customers keep saying "I Love My Design Comfort" by contacting us today!