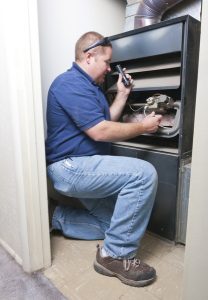 In our previous post, we discussed how it's never too late for air conditioning maintenance. Just the same, it's never too early for Holladay, UT heating maintenance. In fact, we recommend you have this service done right before your heater's heaviest period of use begins—so, right at the start of fall.
It probably seems insane to think about your heating system right now, given that temperatures are still in the mid-80's to low 90's. But, servicing your heater before you actually need it is probably one of the best decisions you can make for home comfort. And given that temperatures are expected to begin cooling down in just a few weeks, you'll be glad to have the peace of mind that you are prepared.
The Steps of Heating System Maintenance
Having your heater regularly maintenance helps to keep it running as efficiently and effectivity as it should, for as long as it should. It makes it less likely that you'll run into huge repair needs in the future, and as we mentioned above, helps to give you a peace of mind that your heater is well cared for and you are prepared for when you actually need it. But what actually happens during this maintenance appointment?
Our professionally trained technicians will inspect your heater, first. This is probably the most important part of heating maintenance. We'll use this time to check for any potential health and safety risks that might exist.
We'll also check for any important repair needs that could impact the performance of your unit. We'll inform you of anything that needs repair before you begin using the system, which will give you plenty of time to schedule additional services as soon as possible, and hopefully avoid emergency repairs later on.
Next, we are going to clean your system. If components inside your heater are dirty, they cannot possibly perform as they should. For example, if a coil in your heat pump is blocked by a layer of dirt, it won't be able to adequately absorb heat from the outside air.
Another example is a dirty furnace burner—it won't be able to generate heat as needed. Cleaning each of the components enables your heating system to work at its peak efficiency.
The steps of heating system maintenance may not be in this specific order, but the final important part of this service is adjusting components that need it. Over the years, your heat system's components go through a lot, and as such they accumulate a lot of natural wear and tear. Due to this, even if they don't need repair, they might certainly require adjustments as they become loose or bent.
You could have a loose furnace panel, a bent flame sensor within your furnace, or perhaps a bent heat pump component. It's important to remember that even just one faulty component can have a serious impact on the operation of your heater, especially since it can affect other parts of the system.
Contact us today to schedule your next heating system maintenance appointment, and learn why our customers keep saying, "I Love My Design Comfort!"