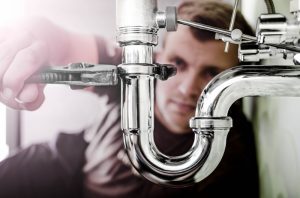 No matter what time of the year it is, there is one system in our homes we use to stay comfortable—our plumbing system. Between your water heater, washing machine, dishwasher, and toilets, could you even imagine going without your plumbing system for a day?
This is why we stress how important it is for homeowners to take good care of their plumbing systems. It's easy to forget. After all most of your pipes are hidden behind walls, beneath flooring, and in cabinets under sinks. But yearly maintenance from a trusted and reputable plumber will help ensure the entire system performs well and doesn't suddenly fail on you throughout the years.
Of course, it's up to you, as well, to avoid some of the biggest threats to your plumbing system. These include:
Drain Clogs
Depending on where in the home they are, drain clogs can happen for any number of reasons. For example, if you don't have a drain cover in your shower then you can easily jam up the drain with your hair. If you put FOG (fats, oils, and grease) down your kitchen sink drain, it can build up until there is too much to easily remove and you need hydrojetting.
Ironically, many homeowners accidentally make the problem even worse by trying to use store-bought liquid drain cleaners to relieve clogs. These do work, temporarily. The problem is they don't work on some types of clogs, and the chemicals in them are caustic—this means they slowly but surely eat away at the lining of your pipes until you find yourself investing in whole-house repiping prematurely.
Tree Roots
This is a separate drain clog issue all on its own, affecting your sewer or main water line. What happens is if there's even the smallest fissure in your sewer line or main water line, tree roots are attracted to the water. This is particularly true in your backyard, where trees get naturally fertilized beneath the soil.
If you do not currently have a map of where your sewer, water main, and gas lines reside beneath your property, now is as good a time as any to call your utility company. Then you can check and see if you have trees or other landscaping growing too close to your sewer and main water lines, and you can either uproot the trees or have your water lines rerouted.
Low-Efficiency Appliances
This one isn't as urgent as the other two, but it can still leave you spending more money than you should have to on water use. Think about your toilet—is it a low-flow model? If not, upgrading to one means eliminating gallons upon gallons of water waste over the next few years.
The toilet isn't the only plumbing fixture you can upgrade and save money with—you can achieve this with low flow showerheads and sink faucets too.
To learn more about how to save money and what plumbing problems to watch for, please reach out to our team today.
See what keeps our customers saying, "I Love My Design Comfort!" Contact us for your plumbing services in Salt Lake City, UT.