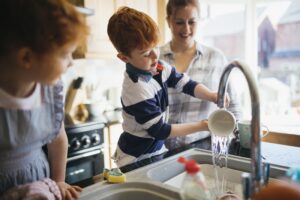 Whether you've been in your home for decades and never had your plumbing inspected outside of the initial home inspection (which, by the way, doesn't involve checking for everything that could impact your plumbing–such as your risk, of experiencing slab leaks or how old your pipes actually are) or you're having plumbing newly installed, there is one thing we encourage you to keep in mind. This is, how important plumbing maintenance is.
Your plumbing system works hard to bring you many of today's modern conveniences–warm showers, the ability to keep beautiful landscaping, the ability to cook and clean, etc. But without proper care, your plumbing system won't be able to work reliably forever. But what does plumbing maintenance look like? Can you maintain your plumbing on your own?
Sure, there are definitely some plumbing maintenance tasks you can do on your own! We'll outline these below. It's also important, though, to trust the pros for the pig stuff. And that's where we come in. Read on to learn more!
Preventing Drain Clogs
One of the plumbing maintenance tasks that homeowners can certainly do on their own is to prevent drain clogs. Drain clogs occur for a number of reasons, depending on where they occur in the home. For example, a kitchen sink drain clog can happen due to food byproducts such as FOG (fats, oils, and grease) or even something that wasn't meant to go down the garbage disposal, like excessive eggshells or potato skins.
In a bathroom, you may end up with a drain clog due to something other than toilet paper being flushed (please note, even wipes marketed as "flushable" really shouldn't be flushed), or a drain clog in the sink due to hair and soap scum.
For most types of drains, clogs can be prevented by putting a drain cover on. This doesn't seal off the drain but rather allows water to pass through while leaving any byproducts in the sink (or bathtub) where you can clean them off.
It's also worth noting here that using chemical, store-bought drain cleaning liquid is not the way to go either. The chemicals in these drain openers are very caustic, and can lead to corrosion in your pipes–not to mention they can make the clog worse.
Calling for Professional Plumbing Maintenance
Have you ever had your pipes inspected? If your answer to this is "no," then there is no time like the present to have it done. Our plumbers will use what's called video pipe inspection to take a close look inside your pipes. This helps us find things like signs of corrosion, blockages, pinhole leaks, and more that could lead to huge plumbing problems down the line.
Preven potential flooding, water waste, and property damage by giving our team a call for professional plumbing maintenance. We look forward to serving you and to helping you discover new ways to make your plumbing as efficient as possible.
See what keeps our customers saying "I Love My Design Comfort!" Contact us today for reliable plumbing service in Salt Lake City.