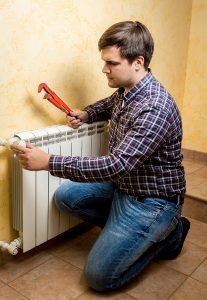 The time of year has come where colder temperatures have come in, and they're here to stay until next spring, for the most part. Due to this, it's important that you schedule Salt Lake City, UT HVAC services for your heating system—in particular, your annual (or biannual, if you have a heat pump) heating maintenance appointment.
Yes, there are a couple different steps you can take on your own to maintain your heater. For instance, changing out your dirty or clogged air filter is something you should do every 1-3 months. However, full maintenance that makes a difference to the functionality of your heating system should be left to the pros.
Trust the Professionals for Your Heating Maintenance
When it comes to thoroughly and accurately maintaining your heating system, you should trust only in a trained and experienced HVAC technician. Only they can manage the numerous tasks that come with professional maintenance.
This includes conducting a thorough inspection on motors and electrical connections, cleaning coils and moving parts, and making any recommendations for repair needs that may crop up. Our technicians will provide this service once a year for you—or twice a year if you have a heat pump system, as we mentioned above.
Is It Ever Okay to Skip Maintenance?
This is one of the most common HVAC questions our professionals get, and we really recommend against skipping this important service. Many homeowners think of heating maintenance as a luxury, but truth be told it is a lot more than that.
Skipping your heater's maintenance session makes it more likely that problems will crop up over the years—potentially over the coming winter season. There are a number of advantages to scheduling maintenance on a routine basis, such as:
More Reliable Heating: Perhaps the biggest benefit of staying on top of your heating system maintenance is that you'll have a peace of mind that you can rely on the system to work effectively and efficiently. With maintenance, your heater is less likely to suffer from ailments such as premature breakdown or some other major operational problem. Our technicians perform a thorough inspection during maintenance, and this helps us to locate places where stress on the system can lead to problems. We also adjust any components that need it, and clean the system as well. When your heater is well-cared for, you can progress into winter with the confidence that you won't need to make any emergency calls—although, we are there for you if this occurs!
Better Efficiency: Over the years, wear and tear on your heating system creates more stress on its various components. This eventually causes higher energy bills as your system tries to compensate for the extra strain. If you invest in regular maintenance, however, then your heater should be able to retain 95% of its efficiency rating throughout its service life.
Heater Longevity: Depending on the make and model of your heating system, it should be able to last a decade, maybe even two. However, if you skip your routine maintenance appointment, this cannot be the case. Regular tune-ups and system inspections help your heater give you the best return on your investment, by helping the system to last as long as possible.
Fewer Repairs: We get it, you don't want to spend extra money each year to repair your heating system. Fortunately, with maintenance you can lower these costs, if not eliminate them. Approximately 85% of repairs that an HVAC system may need during its lifespan are said to be preventable, so long as you invest in routine maintenance appointments to catch problems ASAP.
Wondering why our customers say, "I Love My Design Comfort!"? Contact us today to find out.