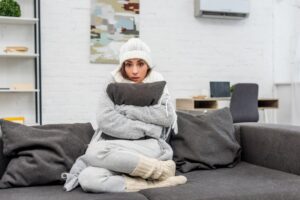 Here's a scenario that not a single homeowner or their household ever wants to face: It's a chilly evening and you're enjoying a relaxing night in with your family when all of the sudden, your furnace goes out! You check the thermostat—everything seems fine there. You reset the circuit breaker, thinking maybe that's the problem. Nope, that's not it either. Well, it's time to call a furnace repair technician. That's when you pick up the phone and give our number a dial!
We'll be there quickly! But in the meantime, we don't want you to be uncomfortable. Depending on how long the problem's been going on, that may seem inevitable, but it doesn't have to be. Read on as we share some fun and practical tips to stay warm while you wait for our techs to show up.
Move Your Body!
Whether it's just you in the home or you have a spouse, roommate, and/or small children, this is something everyone can join in for! Turn on some upbeat music and have a personal dance party. Take the clothes off your old treadmill and take turns going for a run or a brisk walk. Do some lunges up and down the hallway. Anything that gets your heart pumping will also raise your body temperature, and help you warm up a bit.
Bake Some Cookies
Or make some soup! Look, we'll never suggest using your oven or stovetop as a replacement for a heater. This can be dangerous, particularly if we're talking about gas-powered appliances. But there's no reason you can't use this moment of chilliness to cook something yummy and naturally raise the temperature in your home in the meantime.
Let the Sunshine In
If it's during the day, open those curtains and blinds on south-facing windows! You may be surprised to find how much radiant heat the sun can bring in. While we're on that note though, you do want to make sure that your windows aren't drafty. Otherwise, that may defeat the purpose of throwing open your curtains. Actually, drafty windows make for some pretty inefficient heater use too. If this is a problem in your home, consider sealing up those windows with caulking, which can be found at any hardware store.
Run Your Ceiling Fans on Low, In Reverse
Did you know there is a switch at the center of your ceiling fan? This switch allows you to reverse the direction of the fan blades from counter-clockwise to clockwise. Why would you need this, you ask? Well, because instead of distributing cool air, putting the fan blades in reverse helps pull down warm air that's collected near your ceiling. This is a great idea to get any residual heat left in your home to be better distributed through your home.
Once your heater gets fixed, this can even be used to help that system work more efficiently. When you feel warmer, you can adjust the thermostat accordingly, and your furnace or heating system won't have to run as long, effectively saving you energy and money.
See what keeps our customers saying, "I Love My Design Comfort!" Contact us today for expert service on your furnace in Salt Lake City, UT.