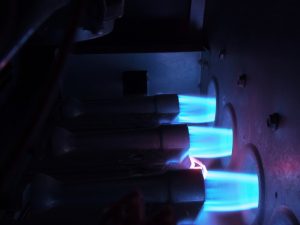 We're talking about heating maintenance! This service is one of the most important that you can schedule in your home this time of the year. We typically recommend that maintenance tune-ups for heating systems be done in the early fall, before you need your system the most. But it's more important that you be consistent with these appointments, no matter the time of year.
And no, before you ask, heating maintenance isn't something you can do on your own. It's a job that requires experienced and highly trained HVAC professionals. Aside from changing out your air filter if you have a forced-air heater or making sure the area around your system is clean and free of obstructions, maintenance should be left to the pros.
What Are the Benefits of Regular Professional Maintenance?
First, we want to stress that word, "regular." Like we mentioned above, consistency is important here. Heating maintenance should be scheduled each and every year, for your heating system to be able to function safely and effectively, and for you to get the full return on your investment. Here are the major advantages of keeping up with routine maintenance:
Improved Safety: One of the most important jobs that HVAC techs do during heating maintenance is check to ensure the system is running as safely as possible and doesn't need urgent repairs. This is particularly important for natural gas systems, such as gas-powered furnaces. These types of heaters are not inherently unsafe, but without proper maintenance, they can become dangerous.
Better Energy Efficiency: No matter what type of system it is, a heater will start losing energy efficiency if it goes without maintenance for too long. This drop in efficiency can be steep within a few years, resulting in the system draining 25% more power (or more) than it should. Maintenance also keeps the heater at peak efficiency for most of its service life.
Longer Service Life: Speaking of that service life—replacing a heating system years before you should have to is an expense no homeowner should have to incur. You want to receive the most years possible from your heater, heat pump, furnace, etc. right? Well, if your heater isn't routinely maintained, there's a good chance that it will fail years earlier than it would have otherwise.
Fewer Repair Needs: Many homeowners are surprised to learn this, but about 85% of the repairs a heater needs on average throughout its lifetime are repairs that can be prevented, with regular maintenance. This means you can save on hassles and repair needs.
Ask About Our Priority One Maintenance Program!
Why should you join a maintenance program? First off, many of our customers choose to go this route for the convenience. Instead of remembering to make an HVAC maintenance appointment twice a year—once for your AC system and once for your heater—we will call you.
Plus, there are the cost-saving benefits of joining a maintenance program. You'll receive preferential treatment as a Priority One member, in addition to special discounts on repairs and parts—plus many additional benefits. Contact us today to learn more.
See what keeps our customers saying, "I Love My Design Comfort!" Contact us today for thorough maintenance and heating repair in Salt Lake City, UT.