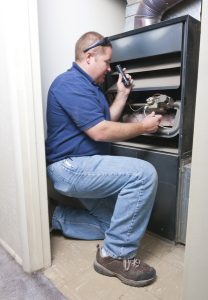 There's no denying that winter is here, and temperatures aren't even at their coldest yet! Chances are though, you're already using your heater on a daily basis. In the following weeks you'll be putting a lot of strain on the system, so before you read any further, be sure to schedule maintenance if you haven't done so already in the past year (or in the past 6 months, if you have a heat pump).
Even with maintenance, there is no guarantee that your heater will work 100% without malfunction or the need for Salt Lake City, UT heating repair throughout its lifespan. But the thorough inspection, cleaning, and adjusting that happens during maintenance can certainly help fend off some of the most common heater problems we receive calls for, such as the following.  
Short Cycling
This is a problem most often seen with furnaces and heat pumps. What happens is that your heater turns itself off too early, before it completes a full heating cycle. This is a symptom of a bigger problem, and not a description of the actual malfunction. There are a number of different malfunctions that can cause this to occur, all of which require professional service of some kind.
The problem with short cycling is that it causes your heater to work harder than it should have to—inefficiently so. This costs you more money than necessary in the long run. If your heater is brand new this year and is short-cycling, then unfortunately it may have been improperly sized and is actually too large for your home. Replacement may be needed, but the only way to know for sure is to give our pros a call!
Uneven Heating
This is an obviously frustrating problem, with the winters we experience. After all, how can you be truly comfortable in your home if you're regularly coming across cold spots within it? The next time your heater is running, take a walk through all the rooms in your house and see if the warmth is being evenly distributed or not.
Make sure windows are closed and no vents are obstructed. In the absence of these occurrences, if you are in fact experienced uneven heating, then you may have a failed baseboard heater, a broken heating element, air handler problems, or even a breach in your ductwork where conditioned air is escaping into unused spaces in your home (like an attic or crawlspace).
You Discover Your First Heating Bill Is Unusually High
When you received your first heating bill, was it a lot higher than your first heating bill this time last year? The weather hasn't changed that drastically, so unless there's another reason your heating system is being used more than it was this time last year, it's performing inefficiently.
This is typically noticed more in gas-powered systems as when they malfunction, they draw more power than necessary to function, creating inefficiencies and high costs for you.
Contact us today for quality heating repairs or to schedule your next heating maintenance appointment. See why our customers keep saying, "I Love My Design Comfort!"