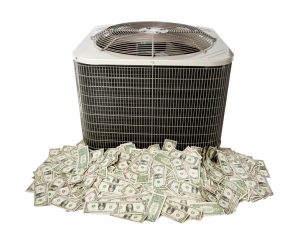 There a number of problems that can impact your air conditioner, sometimes caused by neglect, but could even be from just standard wear and tear—particularly during the summer when your air conditioner is under increased stress. Unfortunately, over time these problems reduce your system's energy efficiency, and as a result hike up your bills.
So, it's only natural that you'd want to find ways to improve your air conditioner's performance and efficiency throughout this summer. When you find yourself in need of air conditioning services in West Jordan, UT, we're the team to turn to. In the meantime though, we've shared some tips below on how to save on cooling costs.
Raise Your Thermostat
We understand how tempting it can be to push the thermostat down as low as it will go when the heat outside rises up into the 90s. Most thermostats can be set as low as 60 degrees, but each degree you raise the thermostat during the summer means saving energy—and subsequently money.
The less difference there is between the indoor and outdoor temperatures, the slower your home interior gains heat. Plus, an air conditioner struggles to cool a home beyond a 20 degree difference between these temperatures, anyway.
Keep the Area around the Outdoor Unit Clean
The outdoor cabinet of your AC system is called the condenser unit. In order for your air conditioner to work at full efficiency, the condenser must be able to expel heat to the outdoors. If your condenser is surrounded by dirt, lawn clippings, branches, leaves, and other debris, then it will make your air conditioner work harder. Clean up this area so that the condenser has a foot of space clear on all sides.
Vacuum the Vent Covers
You might not realize it, but dust all over your vent covers can cost you in AC efficiency. Take a walk through your home and locate all the room vent covers—many are located on the ceiling or down on the floor—and make sure they are unobstructed.
Use a vacuum with a hose attachment to remove dust from them—you may be surprised with how dust these vent covers can be. When they're clean, it will make a difference in AC performance.
Keep Heat-Producing Appliances Clear of Thermostat
Your thermostat can pick up incorrect temperature readings, called "ghost readings" from heat-producing appliances that are nearby. This can make your air conditioner run at the wrong time, which means wasted energy.
Invest in Maintenance
Never underestimate the importance of regular air conditioning maintenance. It's during this appointment that our technicians will fully inspect your system—cleaning it and making any adjustments that might be necessary. We'll also recommend repairs if needed.
Keeping up on maintenance ensures that your air conditioner will last as long as possible—at least as long as its lifespan of 10-15 years.
For quality air conditioning repairs and to schedule your next air conditioning maintenance appointment, contact us today—learn what keeps our customers saying "I Love My Design Comfort!"