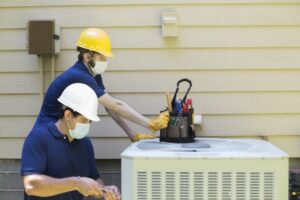 The short answer to the question of "is it ever too late to install an air conditioner" is usually no, but right now we'd say it depends. 
As you may or may not be aware of, the pandemic has caused a shortage in HVAC equipment across the country, which does make it a bit more challenging for homeowners to find the perfect system. But with a trained professional's help, you can certainly explore your options and find the right system for your home with a little bit of patience and time. The good news is, temperatures are cooling down! So you actually have quite a while before you need your new air conditioner.
Read on as we uncover factors to consider when installing a new air conditioner.
Do You Already Have a Central Air Conditioner in Place?
Are you replacing a current central air conditioner? This means you already have ductwork snaking its way through your home. Do you know what kind of shape it is? As air conditioners, age–and subsequently their components age–ductwork can accumulate wear and tear, including pinhole leaks and small tears. You can actually lose about 30% of the conditioned air that you're otherwise paying for through leaky ductwork!
This means that if you do plan to have another central air conditioner installed, you'll want to address any damaged or leaking ductwork you have first. Also, it's important to know that a central air conditioner isn't your only option, even if that's what you've always had. You may want to consider a heat pump system, or even a ductless system!
Can a Heat Pump System Benefit Your Family?
A heat pump is set up very similarly to a central air conditioner. It has an outside and an indoor unit, and it uses refrigerant to remove heat from your home, expelling it outdoors and then condensing to bring cool air into your home. The difference with a heat pump, though, is that the refrigerant process can be reversed. This means that not only do heat pumps make great air conditioners, but they make fantastic heating systems too!
In fact, heat pumps are typically more efficient than furnaces because they transfer heat instead of generating it, saving energy!
What If You Go Ductless?
Have you seen a ductless system? You might have seen one in an office building or hotel room without even knowing about it. A ductless system is like taking a "step up" from the standard heat pump for many homeowners. Instead of having a single indoor unit that's connected to a series of ductwork, a ductless system has up to 4 indoor air handlers per outdoor unit. And instead of using ductwork, each air handler is connected to the outdoor unit via a conduit containing a power line, refrigerant line, and condensate line.
The greatest part of all this is that each air handler can be independently controlled from one another, which makes them a highly efficient choice for many homeowners!
See what keeps our customers saying "I Love My Design Comfort"! Contact us today for quality air conditioning services in Salt Lake City and beyond.