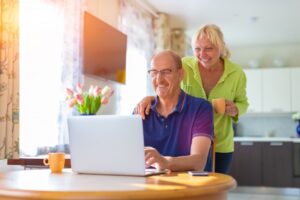 Is it time for AC installation in Salt Lake City, UT? We understand that no one looks forward to the day when any major system in their home needs to be replaced. However, there is a silver lining to this cloud: HVAC systems have made leaps and bounds in technology in the last decade. That means as a homeowner, you have many more options for cooling your home than you did just 5 years ago.
If you think you have your heart set on the same type of system that was installed 10-15 years ago, hear us out. When considering AC installation, it's important to assess several things such as how long you'll be in your home and whether your household may change. Read on to learn about how you can best maximize the benefits when choosing a new AC unit to reap the rewards for many years to come.
Central Air Conditioning
A central air conditioner is a tried and true method of cooling a home. If you've decided on a central AC, you need to know about advancements that have been made in this type of cooling system. When choosing a central AC, you'll need to decide between efficiency ratings that are designated by SEER2.
The higher the SEER2 rating, the more energy efficient the AC will be. However, that also means your upfront cost will be higher. You'll need to take into account the fact that a more energy-efficient air conditioner will cost you less in energy bills the longer you have it. Feel free to talk with us when choosing a SEER2 rating.
Heat Pumps
Some Utah homeowners believe that a heat pump cannot sufficiently heat their homes in the winter. However, this is untrue. The latest advancements in heat pump technology have specifically addressed this issue and now there are cold weather heat pumps that can work efficiently even in extreme temperatures like the ones we get in Utah.
Heat pumps are a great option if you know that you will need to replace your heater in the next few years. That's because heat pumps provide both heating and cooling. If your air conditioner is due for replacement, ask yourself when your heater is due for replacement. A heat pump is a great way to replace two systems at the same time, saving you money in the long run.
Geothermal Systems
If you want to make the best investment in your home for the long term, you can't go wrong with geothermal. A geothermal system is a ground-source heat pump which means it taps into the consistent temperature of the Earth's crust to both heat and cool your home.
Although the initial investment can be substantial, these systems are incredibly reliable and energy efficient. They also last for a long time compared to any other system. The ground loops can last for 50 years and the indoor components can last for 25 years.
We always look forward to the opportunity to advise homeowners on the best choice for their home's heating and cooling needs. if you're curious about any of these systems, give us a call today.
See what keeps our customers saying "I Love My Design Comfort" and contact us for AC installation.