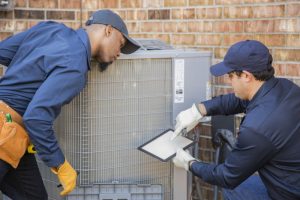 Spring is officially here. Sure, we may still have a couple of bouts of snow flurries here and there in the coming weeks, but you know as well as we do that soon enough, you'll need your air conditioner on a daily basis.
Is your cooling system ready for the task? If you haven't scheduled your spring maintenance appointment yet, there's a very good chance your air conditioner is not ready for what summer is about to bring.
We don't say that to sound dramatic, but we have many customers who don't necessarily see the benefits of maintenance, and feel like it's okay to skip it. This is an annual service (biannual if you have a heat pump) and we really want to shift your perspective on its necessity if you're considering forgoing it this year. What do you get with routine maintenance? Read on to find out!
Improved Efficiency
Waiting to schedule your air conditioning services could leave you with more trouble than it's worth. When summer heat does come, and you turn on your air conditioner only to discover it's performing inefficiently, you're going to wish you took preventive measures. Your wallet is going to wish you took preventive measures too!
During maintenance, our technicians make adjustments to your system to ensure that it's operating as effectively and efficiently as possible, keeping repair needs and utility bills to a minimum. It's estimated that your air conditioner loses 5% of its efficiency each year you skip maintenance. But regular tune-ups can keep your system within 95% of its initial efficiency levels!
Better Reliability
The last thing you need this summer is for your air conditioner to break down on a day you need it the most. A broken down air conditioning system will certainly leave you uncomfortable, but the good news is, you can be proactive.
Scheduling maintenance now ensures your air conditioner remains reliable and is able to get you through even the hottest heatwave without any problems. There is no reason for you to sacrifice your comfort when there is a better solution. Schedule a tune-up now and get the most out of your cooling system!
Convenience and Peace of Mind
Homeowners tend to sometimes wait until the last minute, or until they discover they have a repair need, to schedule a tune-up. Unfortunately, waiting until the last minute means that technicians are typically out on service calls, and you may have to wait longer for an appointment than you would have if you scheduled maintenance in early spring.
Calling to schedule maintenance now means you'll be able to get an appointment that is convenient for you, and you'll have plenty of time to schedule repairs too, if needed. You'll also have the peace of mind that your air conditioner is ready to serve you well this cooling season!
See what keeps our customers saying "I Love My Design Comfort"! Contact us today for professional air conditioning maintenance in Salt Lake City, UT. Ask about the many benefits of our Priority One Maintenance Program!