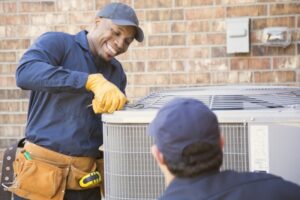 When a customer sets out to buy their next air conditioner, it can be an overwhelming process. After all, there are a number of options, how do you choose?
Well, it starts by contacting an experienced professional. We'll help you make an educated decision about what cooling system options are best for your home. Additionally, we know how to properly size and match your air conditioner to your specific living space.
Central Air Conditioner
The central air conditioner is still a top choice for many homeowners throughout the Salt Lake City area, and for good reason. These cooling systems are powerful, effective, and today's models are more efficient than models from even just a decade ago.
Plus, there are so many options for central air conditioning systems today, including variable speed equipment and inverter drive air conditioners. These types of systems operate at various speeds to bring you the most efficiency. This means that on a mildly warm day, you don't have to run your air conditioner at full blast to keep comfortable.
It's important to note, of course, that whether it's a central air conditioner or any other type, it's vital that you only trust a trained and experienced professional for the installation. We know how to properly size and match your system to your specific home and needs.
Heat Pump
A heat pump system works very similarly to a traditional central air conditioner, by pulling hot air out of your home and putting it through a refrigerant process, using a condenser and evaporator coil plus a compressor, to return chilled air back into your living space. The difference between a traditional central AC and a heat pump is that a heat pump has a component called the reversing valve, that allows it to switch directions and also function as a heating system.
Heat pumps make very efficient heating systems too, because they transfer heat instead of generating it.
Geothermal System
Geothermal systems are also heat pumps. Although, instead of using the temperature of the air to regulate the temperature in your home, geothermal systems work by using the temperature of the soil on your property to regulate the temperature of your home.
They have tubes that are buried underground, making these systems ideal for new home construction. However, they can alternatively be retrofitted in an older home, too.
Always Go with a Pro
As we mentioned above, it's essential that you have your air conditioner installed by a professional. This is because we:
Know how to effectively remove the old system so nothing gets knocked out of place and so no harmful components impact your home (like refrigerant).
Make the appropriate connections to electrical wiring and ductwork.
Test the system before we leave to ensure it's working exactly as it should!
See what keeps our customers saying, "I Love My Design Comfort!" Contact us today for professional AC installation in Salt Lake City!