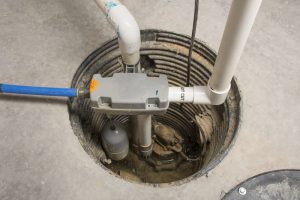 You may be wondering why we ask. After all, you haven't had any severe rains lately, right? Why would be so concerned about your basement flooding this time of year? Well, as the weather warms and the snow subsequently melts, many home and businesses face an increased risk of water flooding into their basements and crawlspaces.
Besides, weather is just as predictable as, well, the weather—meaning it's not predictable at all! Storms can happen at any time, and even unexpected plumbing accidents can cause water to gush down into the lower parts of your home. In other words, you need a line of defense, and that defense system—your sump pump—better be in good shape!
Don't Skip Sump Pump Maintenance!
The best way to avoid sump pump problems and emergency repair needs—and flooding surprises—is with regular sump pump maintenance. This is your best defense against a catastrophe, especially if you're already in the middle of a major weather event.
We recommend having your sump pump inspected as often as possible—you can do a quick test once a month on your own, and a closer inspection once a quarter. On an annual basis, we'll check your sump pump as part of your plumbing maintenance session. Factors we'll look at include:
The drainpipe leading out of the home—is there excessive buildup that could require a thorough cleaning?
The electrical components of the pump—we'll look for signs of damaged wiring and more.
Mechanical failures such as a stuck float or check valve.
During your quarterly checks, you can (and should) test your sump pump by pouring a bucket of water into the pit and making sure water moves out quickly enough. Be sure to call one of our plumbers right away if you detect or suspect a problem.
Should You Have a Battery Backup?
Sump pumps run on electricity, and yes you should absolutely have a battery backup. This will ensure that water can drain from your basement even if the power should fail—which is more likely to happen during an inclement weather event.
Keep Your Sump Pump's Age in Mind
Someday, no matter how well you care for your sump pump and how often you have maintenance done, it will fail. Sump pumps are designed to last about a decade. This is dependent on how well cared for it is, of course.
We recommend having yours replaced before it reaches 10 years of age so you can make sure you have a new pump, in good working condition, when you need it. It also bears mentioning that if your sump pump requires a lot of repairs, it may be better for your wallet and for your peace of mind to just have the system replaced, rather than just hoping for the best and risking major home flooding.
Contact our team today for reliable Salt Lake City, UT plumbing repair and other plumbing services, and see what keeps our customers saying, "I Love My Design Comfort!"