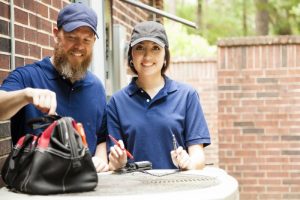 There are some threats to your air conditioner you simply cannot avoid. Take age, for example. The average air conditioner lasts about 10-15 years. No matter the manufacturer or how well you cared for your cooling system, once it reaches this point it's almost a guarantee that you should start considering replacement. But alas, old age is not the only threat to your air conditioner.
Curious about what these are? Keep reading to find out more, and remember to contact us when you encounter one of these problems.
Skipping Maintenance
One important reason to schedule HVAC maintenance every year is simply for your comfort. Over the years, HVAC systems wear down and become less and less effective. Maintenance allows our technicians to thoroughly inspect your system, cleaning it, adjusting components, and alerting you to repair needs. The faster you take care of those repair needs, the less likely you are to face an emergency breakdown this summer.
A well-maintained system retains 95% of its efficiency throughout most of its lifespan, as long as it is taken care of. Maintenance also:
Extends the lifespan of your equipment, delaying replacement needs
Prevents major system breakdowns that will only cost you to repair.
Letting an Amateur Do the Job
If you were building a house, would you let just anyone do repair work on your AC? Of course not, they lack the experience to do it, and the call to safety that comes into play. So, you shouldn't let an amateur HVAC "professional" do it either. They likely don't have the years of training and expertise that will ensure that your air conditioner does its job to the best of its ability.
Whether its installation, maintenance, or repairs, you don't want to let an amateur do the job. Not only could you wind up with more problems than you started with, but you can also void the warranty on your cooling equipment if you don't entrust it with a qualified pro.
Not Changing the Air Filter
There's a common misconception among homeowners that the air filter within their air conditioner is there to protect their indoor air quality, and nothing more. This simply isn't the case. In fact, this isn't even what this air filter was designed for. This air filter is in place to protect the interior components of your air conditioner from dust, dirt, and other debris that can negatively impact its internal components.
So whether you're suffering from ill effects of allergies or poor indoor air quality, the HVAC air filter still needs to be changed every 1-3 months. Otherwise, it can get too clogged up and restrict airflow, impacting the performance and efficiency of your air conditioner. This is one maintenance task that homeowners can and should be doing on their own, in addition to ensuring that the outdoor unit of the cooling system, and the cooling system's vents are unobstructed and can allow for proper airflow that way as well.
See why our customers keep saying "I Love my Design Comfort," and contact us for Salt Lake City HVAC services.