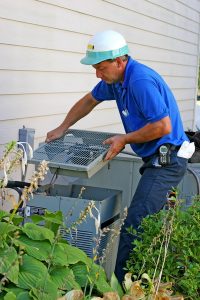 Temperatures are steadily increasing as summer progresses, and you just realized that you forgot to schedule your preventive AC maintenance in Salt Lake City, UT. Maybe you can skip it though, just this once? It's probably too late to have it done now anyway, right?
Well, no.
Unless your system totally broke down and you need to replace it altogether, it's actually never too late to have your air conditioner tuned-up. This is truly a scenario of "it's better late than never." Besides, there are a number of benefits to joining our maintenance plan, which we'll get to below.
It's Not Too Late
Maintenance tune-ups are something your cooling system needs on an annual basis, even if this means scheduling it during the summer. Yes, we have very cold winters. However, our oppressively hot summers are not something to take lightly, at least, not without a high performing air conditioning system. Maintenance helps ensure that your air conditioner is always ready to go, whenever hotter weather strikes.
Skipping Maintenance Increases Your Cooling Bills
On average, each year that your air conditioner goes without preventive maintenance, it loses approximately 5% of its overall efficiency. This drop off gets steeper over time, until you end up paying far more than you should have to for all the time you run your AC system.
Routine Maintenance Helps You Avoid Sudden Breakdowns
The main reason we recommend annual tune-ups for your air conditioner is so that you'll prevent the system from suddenly breaking down on you during a baking hot day. There are plenty more of those ahead, and you want your AC system ready to get through each and every one of them.
Tune-Ups Prevent Unnecessary Repairs
Chances are you'd rather not spend extra money (that you should be using to enjoy summer) on air conditioning repairs. The simple precaution of annual air conditioning maintenance can help you avoid about 80% of the repairs your air conditioner might face in its lifespan.
Maintenance Helps Your System Last Longer
The average AC unit is designed to last about 10–15 years. It simply can't make it this long without proper tune-ups, though. Routine maintenance means that over the years, your air conditioner will experience less wear and tear, which ultimately results in a system that will last longer than one that forgoes tune-ups.
Our Maintenance Program Helps You Save!
Maintenance allows our technicians to fully inspect, clean, and adjust your air conditioner to ensure it works as effectively and efficiently as possible. This by itself will help you save money, but there is even more to it when you enroll in our maintenance program.
When you join our Priority One Maintenance Program, you can count on competent experts at your service, preferred 24-hour service, and zero contracts to sign. Additionally, we offer Priority One members discounts off of parts and repairs, waived after-hours charges, VIP pricing on upgrades and accessories, and much, much more.
See what keeps our customers saying, "I Love My Design Comfort!" Contact us today to schedule your next maintenance session or to enroll in the Priority One Maintenance Program.